March 2018
| Sun | Mon | Tue | Wed | Thu | Fri | Sat |
| --- | --- | --- | --- | --- | --- | --- |
| | | | | 1 | 2 | 3 |
| 4 | 5 | 6 | 7 | 8 | 9 | 10 |
| 11 | 12 | 13 | 14 | 15 | 16 | 17 |
| 18 | 19 | 20 | 21 | 22 | 23 | 24 |
| 25 | 26 | 27 | 28 | 29 | 30 | 31 |
Calendar

Twitch Status
NFC North
Minnesota Vikings
Chicago Bears
Green Bay Packers

Detroit Lions

NFC East

Philadelphia Eagles
Dallas Cowboys
New York Giants
Washington Redskins
NFC South
Carolina Panthers
Tampa Bay Buccaneers
New Orleans Saints
Atlanta Falcons

NFC West

Arizona Cardinals
Los Angeles Rams
Seattle Seahawks

San Francisco 49ers
AFC North
Pittsburgh Steelers
Cincinnatti Bengals
Baltimore Ravens
Cleveland Browns

AFC East

New England Patriots
Miami Dolphins
Buffalo Bills

New York Jets
AFC South
Tennessee Titans
Indianapolis Colts
Jacksonville Jaguars

Houston Texans
AFC West
Oakland Raiders
San Diego Chargers

Denver Broncos
Kansas City Chiefs


Since Team OVR is somewhat unpredictable and possibly buggy it is clearly not fair to use that in the max re-signing equation for future seasons. We looked at different options and ended up back at last year's rule of 3 re-signings with modifiers (-1 for Championship Round or +2 for non-playoff) as the simplest way to balance things without encouraging tanking. That change would help 9 teams but actually hurt 5 other teams while the rest stayed the same. Despite the buggy Team OVR which negatively impacted 4 teams, if we changed to a system that negatively impacted 5 other teams that would be equally unfair.
So, in order to ensure that nobody is negatively affected by the Team OVR bug or a change in the system we decided to use both systems this season. We will take the average of the 2 systems and roundup. Basically, everyone will get the better number out of the 2 systems. This method also leads to a relatively similar amount of total re-signings so the free agent pool should be just as deep without anyone losing a re-signing due to the change.  
After this season we will leave Team OVR out of the equation and switch to the new system, 3 re-signings with modifiers (-1 for Championship or +2 for non-playoff). Another benefit of this is everyone will know exactly how many re-signings they'll have for the following season before the offseason starts.
Below is the full list of Max Contract Extensions/Re-Signings per team: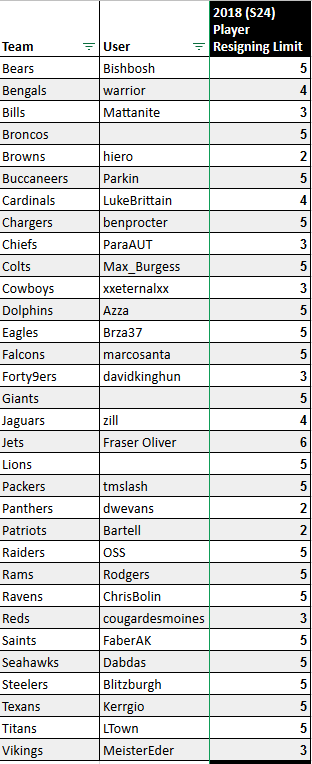 The list is also available as a google doc Tab S24Extensions:
https://docs.google.com/spreadsheets/d/1abC6giM-IYtDCB-X14jTTe_XBszwJcxoUjbup-x_Ka0/edit?usp=sharing
Admin




Posts

: 2433


Join date

: 2011-11-10


Age

: 37


Location

: Germany




---
Permissions in this forum:
You
cannot
reply to topics in this forum